| | | |
| --- | --- | --- |
| Welcome | | You are not currently logged in. |

Jesse Newman

Shannon Skinner
Business Manager/Financial Sec. President
| | | |
| --- | --- | --- |
| | | |
| | | |
| | | |
Brothers and Sisters,

AFL-CIO Government Affairs Representative William Samuel issued a call to action for all Nevadans today to vote NO on 3, and to join hands with the No On 3 campaign to defeat this dangerous initiative:
Sisters and Brothers,

I want to take a moment to let you know that the National AFL-CIO is firmly opposed to Nevada ballot question number 3, and stands in strong support of the No On 3 campaign.

We urge to you to vote against question 3, and to participate in the No On 3 campaign so that this anti-worker, anti-consumer initiative is not permanently enshrined in the Nevada constitution.

Nevada's working families can defeat this initiative by spreading the word to friends, family members and coworkers that this initiative is not about consumer choice. It is about the desire of billionaire casino and server farm operators to use their market power to cut a good deal for themselves while leaving every-day Nevadans to fend for themselves against out-of-state investors and power suppliers.

Nevada has fair and just electricity rates that are determined in public hearings under
procedures that mandate that power companies must serve all of Nevada. That is good for Nevada, good for our families, and good for high-quality union jobs. Please join us in supporting the No On 3 campaign.

Some background:

Nevada ballot question 3 seeks to drastically reduce regulations on Nevada's energy market with a constitutional amendment supported by corporate interests.

Opponents of the question say the initiative is a dangerous constitutional experiment that throws Nevada's energy future into uncertainty, a move that could ultimately cost Nevadans billions. This legislation is also a threat to Nevada's skilled workforce and working families.

The Nevada State AFL-CIO is working with the No On 3 campaign to ensure all Nevadans understand the gravity of what question 3 proposes, and its threat to the Nevada labor community, Nevada consumers and families that depend on fair electricity rates and policy.

Learn more about this important issue at https://noon3.com.
Rusty McAllister
Executive Secretary-Treasurer
Nevada State AFL-CIO
---

Visit us at http://www.nv.aflcio.org/ | Facebook | Twitter
Text NEVADA to 235-246 to join our text action team. (Message and data rates may apply.)
Brothers and Sisters,
We Must Vote Question 3 down in November, 400 of our Local Union Members will lose their jobs if this passes. Vote No On 3!
BOSTON — Citing aggressive sales tactics, false promises of cheaper electric bills and the targeting of low-income, elderly, and minority residents, Attorney General Maura Healey today issued a report calling for an end to the competitive electricity supply market for individual residential customers in Massachusetts.
AG Healey made the announcement today standing with Quincy Mayor Thomas Koch, along with consumer and civil rights advocates. The report found that Massachusetts electric customers who switched to a competitive electric supplier paid $176.8 million more than if they had stayed with their utility company during the two-year period from July 2015 to June 2017.
"Competitive electric suppliers promise big energy savings but are actually burdening customers with hundreds of dollars in extra costs," said AG Healey. "In two years, Massachusetts residents lost over $176 million to these predatory companies. I'm calling for an end to this industry because that's the best way to protect our seniors, low-income residents, and minority communities from these persistent scams."
According to the AG's report, nearly 500,000 residents in the state receive their electricity from a competitive supplier, but certain communities are particularly hard hit. The report found that 36 percent of low-income households received their electricity from a competitive supplier, double the rate among other customers. The study found that competitive suppliers appear to have targeted low-income and minority residents in many of the state's gateway cities including Worcester, Springfield, Brockton, Lynn, Lowell, Lawrence, Fall River, Quincy and New Bedford. Participation was greatest in zip codes with the highest percentage of low-income and minority populations.
"Door-to-door competitive electric suppliers have been such a problem in our city that the Quincy Police Department has issued warnings to the public," said Quincy Mayor Thomas Koch. "For too long, these companies have sold Quincy residents, particularly seniors, a bill of goods. I am proud to join with Attorney General in an effort to stop these scammers."
"The competitive market for electricity was supposed to lower prices for households in Massachusetts, but for years it has done the opposite," said Jenifer Bosco, staff attorney at the National Consumer Law Center in Boston. "As the Massachusetts Attorney General has documented in this report, millions of dollars in overcharges have been picked from the pockets of Massachusetts families, especially low-income families, as the result of this failed deregulatory experiment. The Massachusetts Department of Public Utilities and our Legislature should act now to protect Massachusetts families from further financial harm."
"For far too long, these energy companies have been preying on the city's vulnerable residents. They send door-to-door salespeople that take advantage of our elderly and non-English speaking residents and sign them up for costly contracts that rob them of hundreds of dollars," said Marci Pina-Christian, Executive Director of the Human Relations Commission & Human Services Coordinator for City of New Bedford's Department of Community Services and Executive Board Member of the New Bedford NAACP. "We stand with the Attorney General in her efforts to stop this scam practice."
In Massachusetts, residential customers, like commercial and industrial customers, can "shop around" for electricity rates. Customers can choose to get their electric supply from their utility – National Grid or Unitil or Eversource – or from a "competitive supplier." When customers do not choose a supplier, they receive "basic service" electricity from their utility. The utilities buy basic service electricity in bulk through a competitive bidding process. Utilities pass the wholesale cost of basic service to customers and are not allowed to earn any profit from basic service rates. Under state law, the Department of Public Utilities reviews utilities' basic service rates but does not review the rates charged to residential customers by competitive suppliers.
The AG's report found that the average low-income customer enrolled with a competitive supplier paid $231 more than if the customer was receiving their electricity from their utility company. The report found some low-income households lost more than $541 by switching to a competitive supplier.
In the last three years, the AG's Office has received more than 700 complaints about competitive suppliers engaging in aggressive and deceptive tactics. Complaints include suppliers pretending to be a utility company to induce customers to turn over sensitive information; suppliers harassing customers with repeated calls or home visits; and door-to-door salespeople forcing their way into elderly customers' homes and refusing to leave without a signed contract.
As a follow on to the study, the AG's Office will work with the Legislature, the Department of Public Utilities, the energy industry and civil rights and consumer advocates to close down the market for individual residential competitive electric supply in Massachusetts. The AG's Office does not propose any changes to Massachusetts cities' and towns' municipal aggregation programs or the markets for commercial and industrial competitive supply.
Today's announcement is part of the AG's ongoing efforts to address unfair and deceptive practices in the competitive electricity supply market, including ongoing investigations into third-party suppliers who violate the state's consumer protection laws.
Earlier this week, AG Healey announced a $5 million settlement with Viridian Energy, LLC for deceptive marketing and sales tactics that misled residents into contracts with high electric supply rates. The settlement requires the company to pay $4.6 million in restitution to affected customers and an additional $400,000 to the state's general fund, to offset the cost of the investigation, and to fund future enforcement actions by the AG's Office against deceptive electric suppliers.
In December 2014, Just Energy agreed to pay $4 million in restitution to over 40,000 consumers for deceptive marketing and sales, entering consumers into agreements without their consent, and charging costly termination fees.
Any consumer or retailer with concerns about these deceptive marketing practices should file a complaint with the AG's Office or call the consumer hotline at (617) 727-8400. Consumers with questions can also contact the Consumer Division of the Department of Public Utilities at (877) 886-5066.
The AG's report was prepared by the Susan M. Baldwin Consulting firm.
This matter is being handled by Assistant Attorneys General Elizabeth Anderson, Joseph Dorfler, Alexander Early, and Elizabeth Mahony, and Deputy Division Chief Nathan Forster, Division Chief Rebecca Tepper, and all of AG Healey's Energy & Telecommunications Division, along with Energy and Environment Bureau Chief Melissa Hoffer.
Brothers and Sisters,
This would be our fate if we do not get out and Vote in November
Plus 400 of our Brothers and Sisters will lose
[TEXAS] Electricity prices expected to skyrocket this summer
L.M. Sixel
Houston Chronicle
June 7, 2018
Consumers hoping to find better deals when their electricity contracts expire are in for a shock as retail prices have soared in anticipation of hot weather, potential power shortages and spikes in wholesale electricity prices.
The low teaser rates for consumers available just a month ago have disappeared, making it impossible for buyers who average about 1,000 kilowatts a month to lock in a three-month rate for less than 18 cents a kilowatt-hour, according to PowertoChoose.org, the price comparison tool run by the Public Utility Commission of Texas. A year ago, Texans shopping for a three-month contract could find rates that were less than 7 cents a kilowattt hour while earlier this spring, bargains were still available for less than a nickel a kilowatt hour.
"It's harder to find a good deal," said Fred Anders, founder of Texas Power Guide in Houston, a website that calculates the cost of retail electricity plans.
Prices on longer term plans of a year or more have also risen significantly. Retail electricity providers are reluctant to discuss their prices — especially rising ones — but the Association of Electric Companies of Texas, a trade group, estimated that the rate on a one-year fixed price offer on the Power to Choose website has climbed more than 20 percent over the past year to an average of 11.1 cents per kilowatt hour.
Patrick Mays, an engineer for an oil and gas company in Houston, recently went shopping for a new electricity plan and found that the best deal available would cost about 55 percent more than what he's paying, boosting his average rate to 9.5 cents per kilowatt hour from 6.1 cents under his expiring 12-month contract. The power bills for his 2,000-square foot home will climb an average of $30 a month over the year, he said, but he will take the brunt of the rate increase during the hot summer when he estimates his monthly bill will top out at $186, nearly double the $95 he paid last year.
"I was not expecting to pay as much," said Mays.
The increase in retail rates come as companies prepare for surging prices in the wholesale electricity markets where they buy their power. Forecasts of higher than normal temperatures and record power demand are coinciding with the shutdown of at least three coal-fired plants, leading to concerns that temporary shortages on the hottest summer days could send wholesale prices, which typically average less than $50 per megawatt hour, spiking to $3,000 per megawatt hour or higher. (A megawatt hour is 1,000 kilowatt hours.)
Prices are expected to go up so quickly that Direct Energy has stopped selling its "Power-to-Go" plan to new customers this summer, a prepaid plan that changes rates each month depending on wholesale prices. Instead, the company is encouraging its customers to lock in for longer periods of time. Customers who used up to 2,000 kilowatts each month could get a 12-month contract for 11.7 cents per kilowatt hour in May compared to the same plan for 9.1 cents per kilowatt hour one year earlier.
Electric companies buy longer-term contracts so they can hedge their risks when they're selling long-term electricity plans. Just a week ago, it looked as if wholesale prices would be as high as Texas has seen in the past 15 years, said Ned Ross, director of governmental affairs for Direct Energy, the third biggest seller of electricity in Texas, behind No. 1 NRG and No. 2 TXU. Future prices have retreated recently, but companies buying power for August are still paying at least double what they paid a year ago, according to data from the Electric Reliability Council of Texas, or ERCOT, which oversees the state's power markets.
The threat of price spikes have been long in the making, the result of changing economics of power production. The shale drilling boom produced record amounts of natural gas, which pushed prices to all-time lows and made gas-fired plants cheaper to operate than coal. Renewable energy such as wind is also producing abundant amounts of electricity at a lower cost than coal.
As a result, power companies have shut down Texas coal plants unable to compete with lower-cost generators. Meanwhile, the low electricity prices of recent years — a function of cheap natural gas — and small profits have discouraged companies from investing in new power plants. ERCOT, which oversees about 90 percent of the state's power grid, said power reserves that are called on when demand peaks on the hottest summer days have shrunk to the lowest levels since Texas deregulated power markets in 2002.
"I think everyone is a little uneasy," said Thomas Brocato, general counsel for the Gulf Coast Coalition of Cities, a group of 36 cities in the Houston area that have banded together on electric utility matters.
So far, expectations of soaring wholesale prices is greater than what's happening in the market. The seven-day average wholesale price in Houston on June 1 was $37 per megawatt compared to $60 per megawatt one year earlier, according to ERCOT. But the threat alone of higher costs is already having an impact on the retail market.
Energy sellers must provide collateral to ERCOT to cover expected future costs of buying wholesale electricity and if the companies don't have enough capital, they get shut down. Breeze Energy, a Dallas-based electricity retailer that sold wind-energy plans to 9,800 customers including many in the Houston area, got caught in that financial squeeze when it defaulted on its collateral obligations.
ERCOT would not say how much Breeze Energy owed. Breeze Energy did not return calls for comment.
ERCOT last week notified Breeze Energy's customers that they had been shifted to other providers at higher rates. The Public Utility Commission urged customers to shop for new contracts quickly to lock in better rates.
Among the companies assigned Breeze Energy customers was Reliant Energy, owned by the power company NRG, which has headquarters in Princeton, N.J. and Houston. NRG also owns retail electricity companies Cirro Energy, Green Mountain Energy Co. and Pennywise Power.
Pat Hammond, a Reliant spokeswoman, said wholesale prices during times of peak demand — typically late summer afternoons when air conditioners are going full blast — have so far run an average of about $200 a megawatt hour compared to $55 a megawatt hour last summer. That has helped increase what retail customers are paying.
Consumer advocates, meanwhile, recommend that consumers lock in power plans with fixed costs so they don't have to worry about wholesale power price surges. About 10 percent of the customers in the Houston area don't have contracts, paying rates that change each month.
"If you're not in a fixed price deal, those high (wholesale) prices can trickle down," said R.A. Dyer, policy analyst for the Texas Coalition for Affordable Power in Austin, a group of cities that buy electricity in deregulated markets.
Link to the full article can be found here.
The Public Utilities Commission voted Monday to approve a 109-page report warning that adoption of a retail energy choice ballot question in 2018 could raise power rates and cost millions of dollars to implement.
In a unanimous vote, the three PUC members voted to approve the draft report analyzing costs, benefits and a potential path forward for implementation for the Energy Choice Initiative (ECI) — a ballot question amending the state's constitution to require Nevada shift from an electric monopoly structure to a competitive retail market where multiple companies could generate and provide electric service.
A draft of the report published two weeks ago claimed that the ballot question could lead to massive residential rate increases over the first 10 years and cost up to $150 million to successfully implement by its mandated 2023 deadline. But the version approved Monday includes a 15-page addendum that includes a suggestion which could possibly keep NV Energy operating as a power provider in a retail marketplace, at least initially.
Approval of the report doesn't mandate any action from legislators or the Governor's Committee on Energy Choice — a 25-member group charged with creating a list of recommendations on how to implement the ballot question if it passes in 2018.
But the report, which was requested by the governor's commission last year (sans a cost and benefits analysis) does set the stage for a contentious May 9 commission meeting, where the report could be adopted or rejected by commission members and could inject a level of uncertainty into the planning stages of transitioning the state into a retail energy market.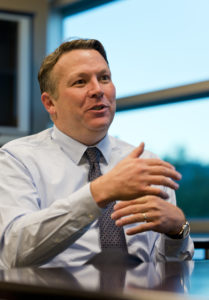 PUC Chairman Joe Reynolds, who authored the report, noted that it had more than 4,600 pages of appendices backing up its claims and added that he has been adamant since the beginning that the report would study all relevant aspects of the ballot question, including those not directly mentioned in the request by the 25-member commission.
"If the Public Utilities Commission was going to conduct an investigation, we were going to do one that had integrity," he said. "We were going to do one that was meaningful. We were going to look at the issues that we believed were necessary to be looked at."
The ballot question itself passed on a 72 percent to 28 percent spread in 2016, and is largely bankrolled by the Las Vegas Sands and data center giant Switch. More serious opposition has emerged this election cycle, with NV Energy moving away from neutrality and pledging to spend up to $30 million to defeat it on the 2018 ballot.
Publication of the report earlier this month caused a furor among supporters of the ballot question — a spokesman panned it as "one-sided" and a "power grab," and Sands executive Andy Abboud called Reynolds a "rogue regulator" and claimed the report was "flatly unlawful."
It continued to draw heated comments on Monday, including some from Switch general counsel Sam Castor, who said the ballot question was about preventing NV Energy from continuing to bring in millions of dollars in over-earnings on electric prices than allowed, and not about creating a "deregulated" marketplace.
"They're raping Nevada," he said. "And anyone who gets up and talks about how this is about 'deregulation' is complicit in that inappropriate act."
Supporters of the ballot question, including former Federal Energy Regulatory Commission chairman and ECI consultant Jon Wellinghoff, filed reply comments over the weekend asking the PUC to reject the "doomsday" report and draft a new one to better reflect the request from the governor's committee on energy choice and to avoid a potential ethics complaint.
"It would be unprecedented and unlawful for the rest of the Commission to interject itself into this political question on the side of NV Energy by adopting this report," the reply brief states. "But if it chooses to go down this errant path, the Commission should at least be forthright about it."
The regulatory body did not take up the reply request, though Commissioner Ann Pongracz did include a 15-page addendum to the original report laying out a more detailed roadmap for policymakers and the Legislature to follow if the ballot question is approved on the 2018 ballot.
Pongracz called the report a "first look" at how to tackle the complex problem of switching market structures in a truncated window, but said it would be impossible for the commission to respond accurately in the report without at least a "preliminary evaluation of the associated costs and benefits."
Although she did not delve into general predictions of how approval of the ballot question could raise or lower rates, Pongracz nonetheless noted that any new retail electric providers would be hard pressed to deliver electric rates that were not only lower than those provided by NV Energy, but also low enough to still offset the cost of upgrading systems and disinvesting of generation plants that the utility would need to sell off if the ballot question passes.
"For Nevada residential customers to break even in the aftermath of deregulation, the new energy market rate must not only match the existing energy rates charged by (NV Energy), but must be so much lower than the existing energy rates as to offset all the new incremental costs that the market restructure brings," she wrote.
Her addendum also addressed one of the key issues the state will face if the ballot question passes — how to determine a "Provider of Last Resort," or electric utility that will provide default service if a retail business goes under or if there no other options available for ratepayers. Pongracz wrote that even though NV Energy has expressed an intent to only focus on electric transmission if the ballot question passes, the PUC could require them to still offer electric service as a provider of last resort.
"While NV Energy is free to announce its intentions, NV Energy is nonetheless required under existing law to obtain the approval of the Commission prior to discontinuing, modifying or restricting its service," she wrote. "Therefore, absent a change to current law by the Legislature, NV Energy is not allowed to implement a unilateral decision to stop serving current customers without Commission approval, and the ECI does not contradict this provision."
Although supporters of the ballot question have charged that approving the report would violate state ethics law and amid accusations that it was one-sided, Commissioner Bruce Breslow publicly confirmed with the PUC's general counsel that the regulatory body would not violate any laws on ethics. Breslow, who was appointed to the commission last August, said he thought the report was fair.
"I don't think it creates a one-sided view," he said. "I think it tries to outline all of the many, many issues that will come into play if the public should vote for this."
Henry Miller, who died more than 110-years ago, was the founder, first president and driving force behind the first union of electrical workers in North America – the International Brotherhood of Electrical Workers.
Despite the key role he played in the history of the IBEW and the early labor movement, little is known about Miller's life and career.
This short film from the IBEW Media Department sheds some light on the life and times of Brother Miller and the dawn of the IBEW.
Please Click on the link to watch the Henry Miller Story
Download:

The Henry Miller Story.msg
| | | |
| --- | --- | --- |
| | Action Center | |
| | | |
| | | |
| | | |
| --- | --- | --- |
| | Action Center | |
| | | |
| | | |